Ankle Pain Arthritis Therapy Cold Compression Ankle Brace

The EVERCRYO Ankle Pain Arthritis Therapy Cold Compression Ankle Brace is a newely-developed product that integrated continuous cold and intermittent hydrodynamic compression therapies to reduce pain and swelling, reduce muscle spasms, encourage cellular oxygen supply to help you to heal faster, recover better, and enjoy more effective pain relief after an injury or surgery.

How does the Ankle Pain Arthritis Therapy Cold Compression Ankle Brace Work?
Rapidly circulating cold water removes heat and cools the injured tissue to reduce edema, muscle spasms, and pain.
Intermittent hydrodynamic compression helping to pump edema away while stimulating the flow of oxygenated blood to the injury site.
The EVERCRYO Pulse Cold and Compression Therapy System seamlessly integrates two principles of RICE (Rest–Ice–Compression–Elevation): cold and compression. Compare with the EVERCRYO Cryo Cuff Cooler, the Pulse cold therapy system use hydrodynamic compression with two hoses, which makes the cold water cycle more thorough and cold therapy better.

A full set of Ankle Pain Arthritis Therapy Cold Compression Ankle Brace Comes With...
• Mainframe(Cooler)
• Ankle Wrap(or other wraps)
• AC Adapter
• Connector Hose

Available Accessories:
Carry bag for Therapy System
Dual Connector Hose
Other wraps for different body parts

Technical Specs
Mainframe(Cooler)

Cuff

Voltage:

AC100V~240V/50-60Hz

Material:

TPU and

DC Input Voltage:

12V/2A

Color:

Blue

Pulse pressure range:

60mmHg-120mmHg

Knee cuff size:

(325-365)x(815-855)mm

Temperature range:

0℃-25℃

Ankle cuff size:

(355-395)x(705-745)mm

Dimension:

240*178*202mm

Shoulder cuff size:

(445-485)x(945-985)mm

Noise:

<55dB

Universal cuff size:

290X360mm
Note: actual product may slightly different with given measurement here due to measurement methods.
Product Features
1. Pulse compression therapy drives cold deep into the injured tissue, can control swelling, edema, hematoma, hemarthrosis and pain in the joints
2. Kinds of cuff to ensure all body segments can be treated effectively.

3. 9 different modes for different pressure and time, It can automatically alternate treatment and sleep time, which can reduce the risk of injury and improve the efficiency of medical staff operation and patients' compliance with treatment.
Available preset programs include:
Low Pressure

Program 1
20 minutes on, 20 minutes sleep
Program 2
40 minutes on, 40 minutes sleep

Program 3
60 minutes on, 60 minutes sleep

Medium Pressure

Program 4

20 minutes on, 20 minutes sleep

Program 5

40 minutes on, 40 minutes sleep

Program 6

60 minutes on, 60 minutes sleep

High Pressure

Program 7

20 minutes on, 20 minutes sleep

Program 8

40 minutes on, 40 minutes sleep

Program 9

60 minutes on, 60 minutes sleep


4. Temperature, pressure and working time status indicators provide clear information that makes it easier to monitor and manage treatment.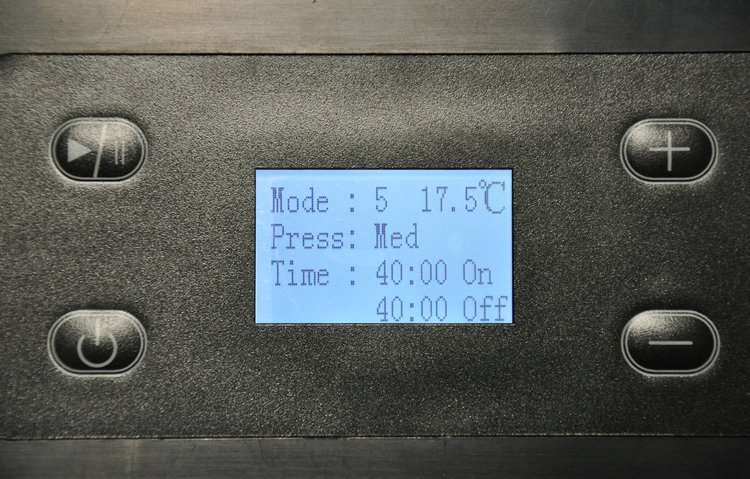 5. The cuff is layered and the insulation is added for easier maintenance and longer cold treatment time.
6. Portable Carry bag make therapeutic treatment more convenient.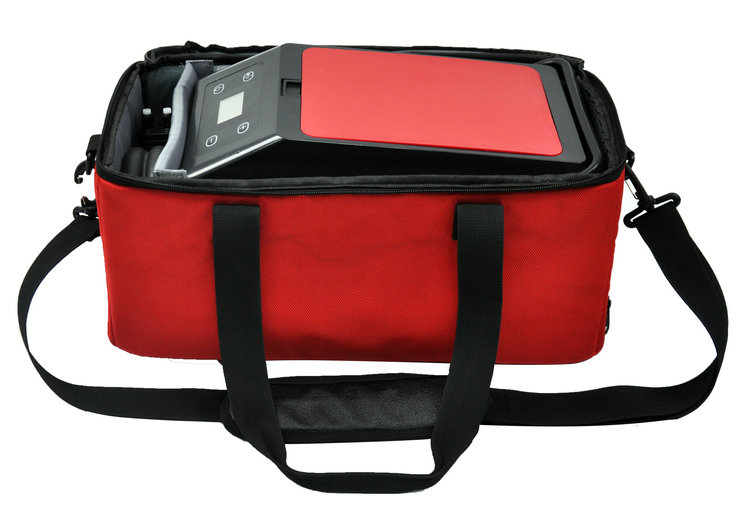 How to Use
Step 1: Push the door release button to open the cooler door, add the ice and water into cooler, please note that the ice and water need to over than half cooler. But do not overfill over than 5/4 of the cooler. Close the door.

Step 2: Place the cuff on the body part, please note that the cuff can`t be placed directly against wounds) , connect the cooler and cuff by connector.

Step 3: Plug the AC adapter. Press the power button about 3-5 seconds, the screen should light up and then press the plus or minus button to choose the mode,then press button play/pause button to start the cooler.

Step 4: After use, Press the power button about 3-5 seconds to turn off the cooler. Drainage out the water from the cuff and pour out the ice and water cooler.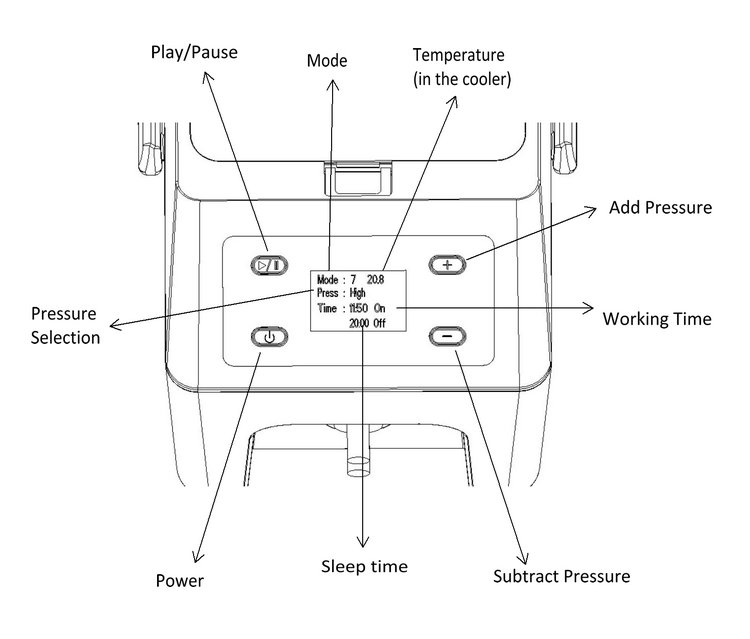 Warm Tips
1. This product is not refrigeration equipment, need add ice and water to adjust the temperature.
2. It can`t be used on open wounds as this product with pressure.
3. When using this product, place the cooler and cuff on the same level.
4. Do not use this product when leaking water.
Packaging&Shipping
| | |
| --- | --- |
| Packaging | 1 set / carton, can be customized |
| Lead Time | 2~5 working days for sample, 20~30 working days for bulk order |
| Delivery | By sea, by air or express, according to customers' requirements |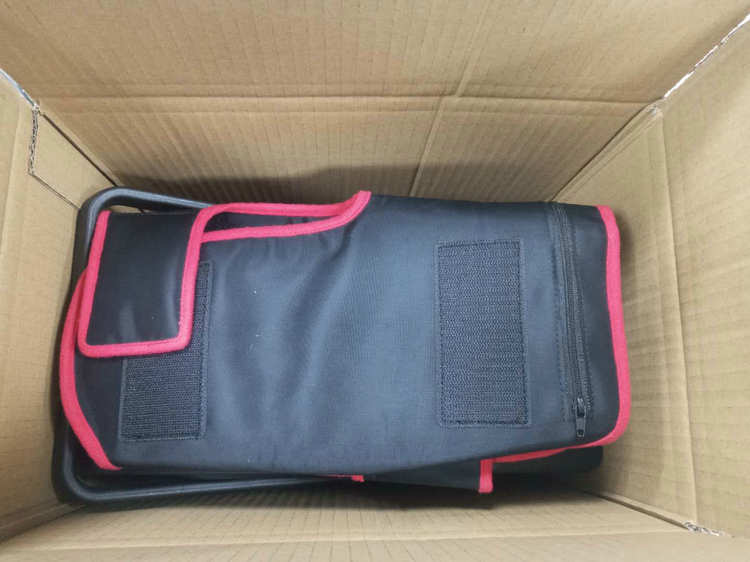 Our Service
With years of export experience along with excellent quality, advanced services and competitive prices, Cryo-Push has won numerous customers' trust and support. We provide our customer below service:
1. All the inquiries will be replied within 24 hours
2. Considerate after-sales service, please feel free to contact with us if you have any problem.
3. We are factory, OEM/ODM is no problem
4. The product MOQ is 1 piece, you can try it first
5. 1 year warranty for our products, free maintenance in warranty period

About Us
Chengdu Cryo-Push Medical Technology Co., Ltd. is an advanced modern enterprise specializing in the research and development, production and sales of the bone division, rehabilitation division and physical treatment products.
Our products have obtained CE and FDA certificates. We have established long stable relationships with many famous hospitals in China so that we can always improve our products and meet the demands of many customers.
Our main products include:
cold wrap,
cold compression wrap,
cold therapy system,
electric far infrared heating brace,
pulse cold compression therapy system,
waterproof cast & bandage protector,
disposable medical tube holder,
Knee support,
cervical neck traction and so on.